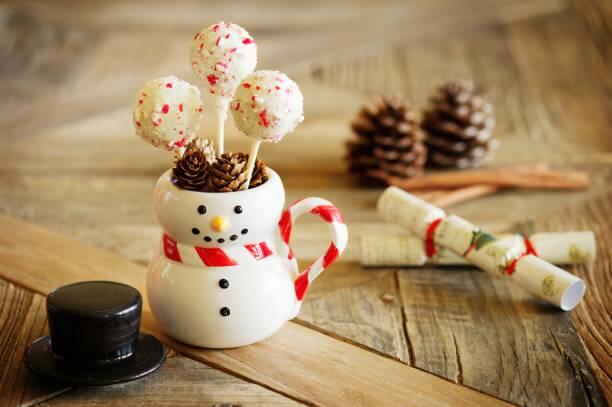 Photo: Getty Images/Gaelle Beller Studio
The holiday season is here and so are all of the fun and festive holiday treats and sweets. These are some of the goodies you can get right now.
Blue Bunny Snickerdoodle Sleigh Ride Ice Cream -Not only does this holiday flavor include fully baked Snickerdoodle cookies, it also has Snickerdoodle cookie dough mixed in, along with cinnamon and icing swirls.
Dove Dark Chocolate Peppermint Bark -Along with Dove's other recent winter additions - Milk Chocolate Mint Cookie chocolates and Dark Chocolate Cherry Swirl chocolates - they're definitely spreading holiday cheer with these tiny treats.
Hot Cocoa Snowman -Next time you're at Trader Joe's, check out these adorable snowmen that are made of white chocolate and filled with milk chocolate chips and marshmallows. All you have to do is warm up milk and put the snowman in your mug to melt into the ultimate winter beverage.
Mint Chocolate Twinkies -Just when you thought you tried every flavor Twinkie around, they add Mint Chocolate.
Reddi-Wip Santa Cans -Whipped cream makes everything better, but spraying it out of a can that looks like Santa? It doesn't get better than that.
Stella Artois Midnight Lager -Not all festive treats need to be sweet! This is Stella's first-ever holiday beer and the dark brew has notes of Belgian dark chocolate and freshly brewed espresso.
Sugar Cookie Toast Crunch -Cereal is even getting festive so you can start your day with a limited-edition bowl of this, which tastes just like the cookies you leave out for Santa.